It's been one quick week in Ghana. My first 10 days in Accra have served as a quick start to four months of orientation. On Saturday August 12th, my program and I took a tour of Accra, which is both a region in Ghana, a business district, and the capital city. One of the most comforting things about this West African country isn't just the pace of life, which is calm and refreshing like Mississippi sweet tea, but also the smoothness of the paved roads, a physical sign of development, and the consistent caress of breeze flowing in from the Atlantic Ocean. During the tour of Ghana's capital city, we made pit stops at The National Theater, The Military Hospital, Macola Market, and the Aya Center for Leadership and Development. There was quite a bit of walking which gave us an opportunity to familiarize with the geography of the city.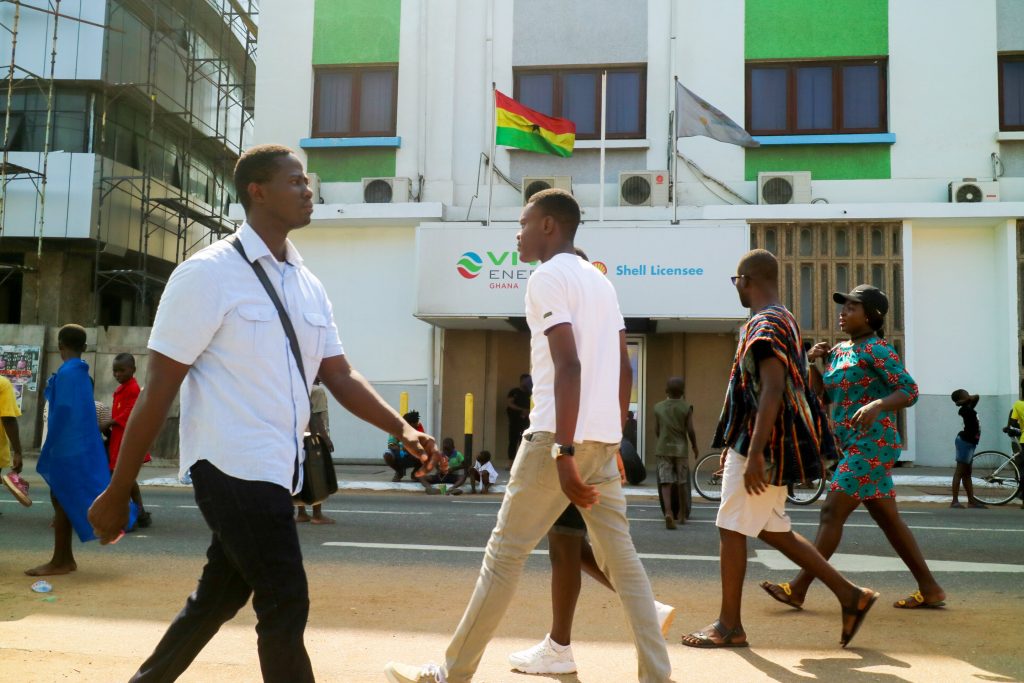 Street Walkers – Mid-Afternoon in Accra
This week's highlights were plenty, but the most memorable were a dance class taken at the School of Performing Arts and the 2017 Chale Wote Street & Arts Festival, Ghana's biggest outdoor arts event.
The dance class was led by Professor Oh! Nii Sowah and four of his top students. It was not only a loosening and freeing of the body, but an intellectual exercise. For two hours, we worked on Concentration – syncing our arm movements with our feet; Coordination – moving together, counterclockwise in the direction of the living, so we were all the second and fourth count doing the same beats per minute; and Confidence – showcasing what we had learnt as well as our own dance innovations in some friendly competition. Professor Sowah encouraged us to take the dances outside of the class, because he believed "to understand what you know is to teach others."
Traditional African Dance Workshop Led by Professor Oh! Nii Sowah
The feelings and lessons of the dance class were so in tune with the Chale Wote Festival. This year's theme was Mata Wata, which gave artists an opportunity to create pieces that reflected and embodied water thus allowing the audience to relate to nature via art.
A mass of people came out to enjoy people watching and the crafts of their local countrymen. For an entire week – August 14th-August 20th – Jamestown, Accra was full of a variety of exhibitions from boxing, photo exhibitions, body painting, fashion shows, and graffiti murals. The amount of arts and vibrant colors that filled the street was almost burdensome, but it elucidated the vitality of life within Ghana. This was the biggest gathering of Ghanaians I'd been in thus far. In just one afternoon I saw how Concentration, Coordination, and Confidence was relevant in not only the dance class I had taken, but all creative endeavors.
Below are some of my favorite photos from the festival:
Men's Streetwear
Traditional Procession
Look out for next week's post to find out about my first week of classes!