Donate Now
 We would like to thank you for your willingness to donate to our organization! With your donation, you are becoming a Sponsor for an exceptional organization aimed at seeing an increase in Black innovation and leadership around the world. We believe in and fully support our future entrepreneurs. Your donation is proof that you do too; and for that we thank you. If you would like to learn more about becoming a Sponsor for Black Entrepreneurs, Inc., please visit our Sponsors page.
We have teamed up with PayPal in order to accept donations online. Since our See the World, BE the Future program is our main campaign to invest in our students (future entrepreneurs), we want to allow our sponsors to donate the exact $2,000 amount that is allocated for each student in this program. We offer 3 ways in which you can donate this amount:
A one-time payment of $2,000
A three-time recurring payment of $2,000 ($666.67 per payment for three months)
A six-time recurring payment of $2,000 ($333.33 per payment for six months)
Should you wish to donate more or less than $2,000, you can click on the "Donate Any Amount" button. Sponsors that donate more than $4,000 (two or more See the World, BE the Future allocations) at one time will be acknowledged for each $2,000 mile mark that they pledge. To learn more about our See the World, BE the Future campaign, please go to our See the World, BE the Future page.
501(c)(3) Tax-Exempt Organization
We are an official tax exempt non-profit organization under Section 501(c)(3) of the Internal Revenue Code.  Thus, your contributions to our organization will be deductible for federal income tax purposes.  So, not only will you as a Sponsor have supported an exceptional organization and (most importantly) its students, but you will also have earned a tax deduction with each contribution!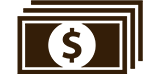 Learn about the See the World, BE the Future scholarship and campaign.
Learn more.
Sponsor a student's See the World, BE the future trip and support Black Entrepreneurs' mission. Learn more.